"
My darling girl, when are you going to understand that being normal is not necessarily a virtue? It rather denotes a lack of courage.

"
Order Your Own Custom Hand-Painted Hat
Add a one-of-a-kind, acrylic painted, and completely unique felt hat to your wardrobe! Every artisan piece is perfect for the summer, your next music festival, or a day by the pool!
Shop Now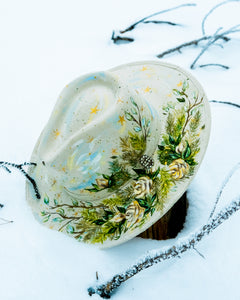 Carmen Leigh is an Evergreen, Colorado-based artist and designer.
Carmen Leigh is a skilled and talented artist who has been creating beautiful pieces for years. From custom jewelry to painted Louis-Vuitton bags. Bringing beautiful things to life is her passion, and it always will be.
Learn More about Carmen