Hand Painted Hats
Elevate your personal style with a wide brim, acrylic painted fedora hat for your everyday wear.
Shop the Collection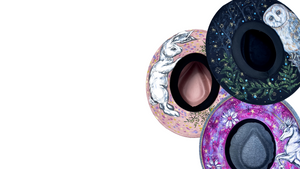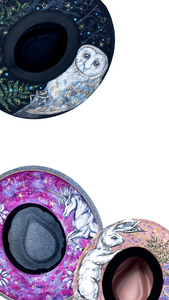 Artisan & Bespoke Hat Designs
These hand painted hats have unique and colorful artwork professionally applied in Carmen Leigh's home studio with intention and care (with a bit of magic sprinkled in.)
Find depictions of beautiful woodland critters, toadstools, flowers, and mystical creatures painted across the felt hat that will bring your magical side to your everyday wear.
Enter the Site
About Carmen Leigh
An artist since she was a child, Carmen Leigh has always had an affinity for color, painting, and beautiful things. She's created everything from custom jewelry, painted high-top shoes, custom hand painted hats, to painted Louis-Vuitton bags.
Learn More